You can apply for a new BSNL connection online through their self care portal.
After entering your location details, you are required to select the service type or the type of connection you need.
Service Type label has the following options. ISDN, landline, broadband, prepaid landline, VPN, fiber to the home, FMT, multimedia video conferencing, fixed mobile convergence, IN services and IP centrex.
Click here to apply for a new BSNL connection.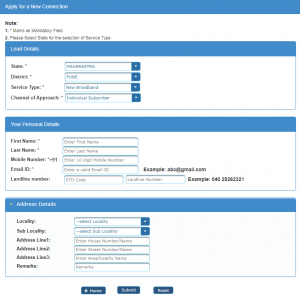 Channel of Approach is whether you are an individual citizen who wants a connection of if you want to open a franchisee.
Once you enter rest of the required details such as your personal contact numbers and address details, you will be contacted by BSNL for further process. Depending on the service type, there may or may not be a waiting list for you.