All Support Top 10 Hill Stations In India Top 0 – Best Hill Station in India : Find the list of most popular and Top Hill Stations in… weather conditions production.
Most of the hill stations in India were developed by the British, around a central mall, to get respite from the oppressive summer heat. Many have picturesque lakes as their focal point, making them excellent places for boating activities. One thing is for sure, you won't be short of things to do at any of the hill stations in India. You'll find them all over the country. And, to add to the adventure, it's possible to take a toy train ride up to some of them. This article lists the most popular ones.
1. Srinagar, Jammu & Kashmir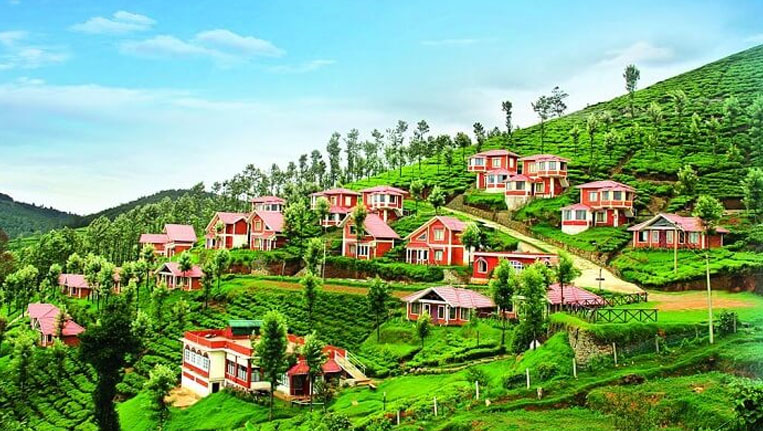 Srinagar, the summer capital of Jammu and Kashmir, delights visitors with its lovely lakes and relaxing houseboats. In fact, lakes and gardens are in such abundance there that Srinagar is often referred to as the "Land of Lakes and Gardens". The gardens have a distinctly Mughal influence, as many of them were cultivated by Mughal emperors. You'll find Asia's largest tulip garden in Srinagar, with a tulip festival held every April. Srinagar is a great place to visit if you're a golf enthusiast, as there are a number of courses there. Don't miss the many must-see Srinagar attractions.
A place of splendid natural beauty, historic gardens and distinctive mosques, Srinagar is without a doubt one of best hill stations in North India.
Best Experiences: Get enchanted by the beautiful Nishat Bagh and Shalimar Bagh, the botanical gardens during the popular Tulip festival and Badamwari Garden to see the almond trees in full bloom. Make a visit to the tranquil Shankaracharya Mandir, the beautiful Khanqah Shah-i-Hamadan mosque and Pari Mahal. And finally, spend a day exploring life on Dal lake and Nigeen lake. It is among the coldest hill stations in India during winter.
Best Time To Visit: April to October
Ideal Duration: Visit for a minimum of 4 days for a good trip.
How to reach: Take a flight directly to the Srinagar International Airport. Or take the train to Jammu followed by a taxi or a J&K State Road Transport Corporation bus to Srinagar.
2. Manali, Himachal Pradesh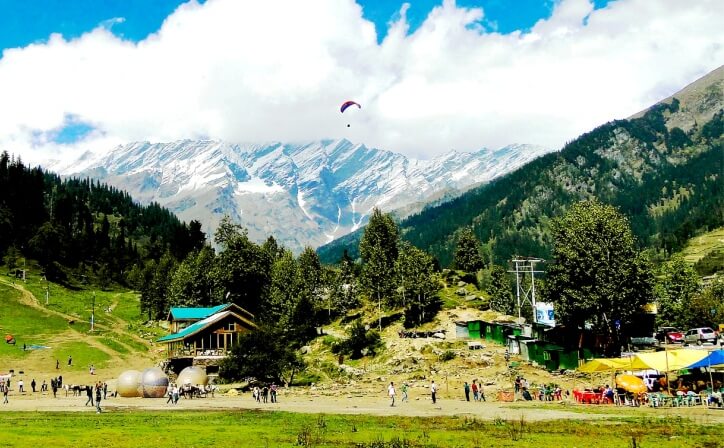 A popular retreat in Himachal Pradesh, Manali is well-known for its bewitching natural beauty, temples and sacred sites as well as the base for numerous adventure activities. One of the popular places in Himachal, Manali is also renowned as the best honeymoon destination. The hill station has always found favour in th eyes of the honeymoon couples with its unparalleled natural beauty, a plethora of honeymoon resorts, and numerous things to do.
Major tourist attractions in Manali
Hadimba Temple
Rohtang Pass
Solang Valley
Vashist Temples & Hot Water Springs
Tibetan Monasteries
Mall Road
Club House
Manu Temple
Nehru Kund
Bhrigu Lake
Kothi
Naggar Castle
Manali Wildlife Sanctuary
Old Manali
Sethan
Top things to do in Manali
River Rafting
Trekking
Shopping
Paragliding
Stay in an Igloo at Sethan
Skiing in Solang Valley (in winters)
Quad Biking in Solang Valley
Birding
How to reach Manali?
Manali is well-connected by road with several destinations in North India. From Delhi, Ambala, Dehradun, and Chandigarh there are buses on a regular basis for Manali. The nearest airport to Manali is in Bhuntar, fewer flights are available for here.
Best time to see snowfall in Manali: December to February
Where to stay in Manali?
Sun Park Resort
The Manali Inn
The Orchard Greens Resort & Spa
Hotel Greenfields
The Himalayan
The Orchard Greens
Where to eat in Manali?
Casa Bella Vista
The Corner House
Il Forno
Johnson Bar & Restaurant
Cafe 1947
The Johnson's Cafe
What to buy in Manali?
Tibetan and Himalayan Handicrafts
Woollen Clothing: Manu Market
Kinnari and Kullu Shawls
Kulli Caps: Mall Road
Thangkas and other Souvenirs: Mall Road
Popular for its scenic beauty, flowery gardens, snow-capped mountains, and orchards of red and green apples, Manali is one of the best hill stations in India in May & June. This is one of the highest hill station in India.
Best Experiences: Visit the Rohtang Pass, the highest point on the Manali-Keylong Road. Some of the other great spots here are Kalath Hot Water Springs, Vashist Hot Water Springs, Jogini Falls, and Solang Valley.
Best Time To Visit: October to February
Ideal Duration: Plan for a 4 day trip to one of the famous hill stations in India to visit in May.
How to reach: Fly to Bhuntar airport followed by a 2 hour taxi or bus ride. Or take the Himachal Pradesh State bus from Delhi to Manali (553 km) which takes 10 hours..
3. Shillong, Meghalaya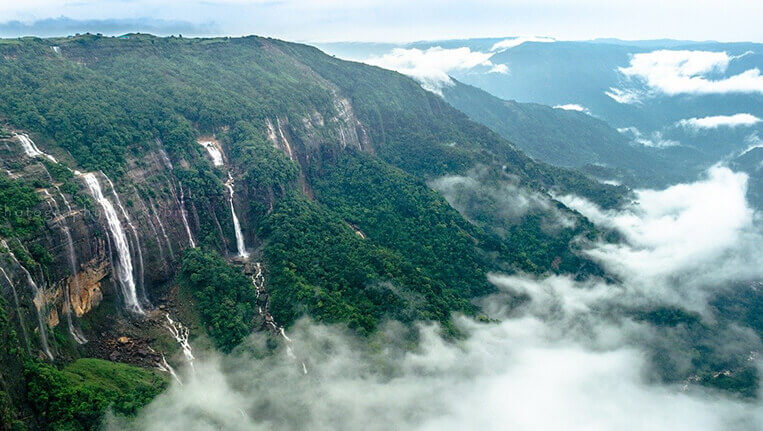 Best Experiences: Visit the Umaim lake created by the Umiam river and famous for water sports. Also, visit the rolling meadows of Shillong Golf Course bordered by pine trees and enjoy a boat ride on the Ward's Lake. Other attractions here are the Shillong Peak, Elephant Falls, Sweet Falls, and the Lady Hydari Park.
Best Time To Visit: September to May
Ideal Duration: Visit for a minimum of 3 days for a good trip.
How to reach: Take a flight directly to the Shillong Airport in Umroi. Or take the train to Guwahati (104 km) followed by a 3-hour taxi.
The topography of Shillong is compelling and this is why it attracts honeymoon couples. This capital of Meghalaya boasts lush green rolling hills, vibrant ambiance, and tranquil settings that can in fact make anyone fall in love with it. Shillong also houses some of the top romantic hotels that ensure the best holiday experience to the newlyweds.
Major tourist attractions in Shillong
Shillong Peak
Umiam Lake
Lady Hydari Park
Elephant Falls
Ward's Lake
Don Bosco Centre for Indigenous Culture
Laitlum Canyons
Mawphlang
Sweet Falls
Spread Eagle Falls
Diengiei Peak
Meghalaya State Museum
All Saints Church
Cathedral of Mary Help of Christians
Air Force Museum
Police Bazaar
Top things to do in Shillong
Boating in Umiam Lake
Angling in Dawki
Trekking
Horse Riding
Camping
Golfing
Rock Climbing
Shopping
How to reach Shillong?
The nearest airport to Shillong is situated in Barapani, which is some 30 km away. Cabs are easily available for Shillong from the airport. The nearest railway station to Shillong is in Guwahati, which is around 100 km away. Cab service is available from Guwahati to Shillong on a regular basis.
Where to stay in Shillong?
Cafe Shillong Bed & Breakfast
The Pear Tree
The Habitat Shillong
Ri Kynjai
Where to eat in Shillong?
City Hut Family Dhaba
Dejavu
Cafe Shillong
Dylan's Cafe
ML 05 Cafe
Madras Cafe
What to buy in Shillong?
Scottish Cloth/Dress Material
Bamboo Handicrafts
Shawls and Stoles
Khasi Scrubs
Raja Chilly and Other Organic Products
4. Mount Abu, Rajasthan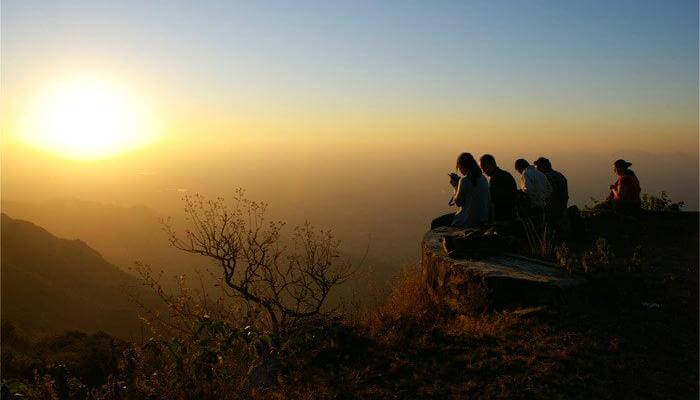 Being the only hill station in Rajasthan, Mount Abu is quite popular amongst the honeymoon couples. This famous tourist destination in Rajasthan boasts pretty settings of the Aravallis, a beautiful lake and a number of temples including the famous Dilwara Jain Temple. Mount Abu offers many breathtaking sunsets points, from where you and your partner can enjoy gorgeous sunset.
Mount Abu is the only hill station in Rajasthan situated close to the Aravali hills. One of the best times to visit this place is during the monsoon season when the lush green environment of the place can enchant you.
Best Experiences: The drive along Udaipur – Mount Abu highway is truly breathtaking. The hill station is famous for Dilwara temples, Nakki Lake and Peace Park. Do not forget to miss the gorgeous sunset at Sunset Point that makes it one of the best hill tourist places in India.
Best Time To Visit: November to March Ideal Duration: Visit here for a minimum of 3 days for a good trip.
How to reach: Railway line from Ahmedabad to Marwar junction is available connecting passengers from Jaipur, Delhi or Jodhpur. Or plan a road trip from Udaipur which is 162 Kms.
Major tourist attractions in Mount Abu
Dilwara Jain Temples
Mount Abu Honeymoon Point
Mount Abu Sunset Point
Mount Abu Wildlife Sanctuary
Nakki Lake
Abu Road
Achalgarh
Trevor's Tank
Guru Shikhar
Peace Park
Adhar Devi Temple
Arbuda Devi Temple
Achalgarh Village
Toad Rock
Raghunath Temple
Top things to do in Mount Abu
Boating in Nakki Lake
Trek to Guru Shikhar
Wildlife Sighting in Mount Abu Wildlife Sanctuary
Birding at Trevor's Tank
Caving/Spelunking
Rock Climbing
How to reach Mount Abu?
The nearest airport to Mount Abu is in Udaipur, which is about 161 km away. Cabs are easily available from Udaipur to Mount Abu. The nearest railway station to Mount Abu is in Abu Road, which is situated some 27 km away. Cabs are available from here for Mount Abu. There are private and public bus services available for Mount Abu from Udaipur, Jaipur, and Delhi.
Where to stay in Mount Abu?
Hummingbird Resort
Hotel Silver Oak
Hotel Ashoka
WelcomHeritage Connaught House Mount Abu
Chacha Inn
Hotel Toppers Corner
Hotel Hillock
Ratan Villas
Where to eat in Mount Abu?
Jodhpur Bhojanalaya
Opa Restaurant
Mulberry Tree Restaurant
Four Season Restaurant & Lounge
What to buy in Mount Abu?
Kota Sarees
Bangles
Linen with Sanganeri print
Jaipuri quilt
Marble items
Sandstone items
Sandalwood
5. Dharamsala, Himachal Pradesh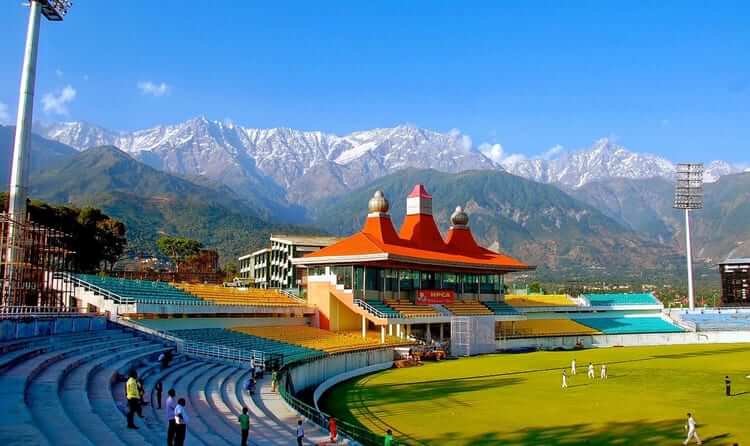 Nestled amidst the picturesque coniferous forests of Himachal Pradesh, Dharamshala is the abode of the snow-clad peaks, spectacular landscapes and stunning views of the Himalayas. Also home to His Holiness Dalai Lama, it is the starting point of several enthralling treks around the Himalayan Range.
How to reach: Fly straight to Dharamshala Airport from the Capital city New Delhi for just INR 4,415.
Along with being one of the most favourite places for tourists, Dharamshala in Himachal Pradesh is home to the holy Dalai Lama. Fringed by the lofty mountains and dotted by Deodar and Cedar forests, this holiday destination in Himachal is also amongst the most popular hill stations in India. Dharamshala is situated at an altitude of about 1487m in the Kangra Valley of Himachal Pradesh. The city is divided into two parts namely, Dharamshala and Mcleodganj and is separated by a village called Ganchen Kyishong. A large number of travellers along with family vacationers throng here for summer vacations. However, many tourists like to visit in winter here to see the snowfall.
Major tourist attractions in Dharamshala
Dharamshala Cricket Stadium
Naam Art Gallery
Monolithic Rock Temples
Bhagsu Waterfall
Bhagsunag Temple
Kangra Museum
Kunal Pathri Temple
Chamunda Temple
Dal Lake
Mcleodganj
Namgyal Monastery
Triund Hill
Naddi View Point
Top things to do in Dharamshala
How to reach Dharamshala?
Dharamshala is well-connected from cities like Delhi, Ambala, and Chandigarh by road. There are regular buses to Dharamshala from these destinations.
Best time to see snowfall in Dharamshala: December to February
Where to stay in Dharamshala?
| | | |
| --- | --- | --- |
| Budget Hotel | Standard Hotel | Luxury Hotel |
| SN Resort | Spring Valley | Aveda Hotel |
| Skylark | Pong View | Asia Health Resort |
| Sky Heaven | Meghavan Holiday Resort | Bella Heights |
Where to eat in Dharamshala?
Crepe Pancake Hut
Common Ground Cafe
Lung Ta
Trek and Dine
Illiterati
Peace Cafe
Morgan's Place
What to buy in Dharamshala?
Singing Bowls
Buddha statues, Prayer wheels and Prayer flags
Tibetan handicrafts
Bead necklaces, metalwork jewellery
Silk and satin wall hangings
Colourful Bags and Purses
Handcrafted diaries and handmade paper
Handwoven rugs and carpets
6. Mahabaleshwar, Maharashtra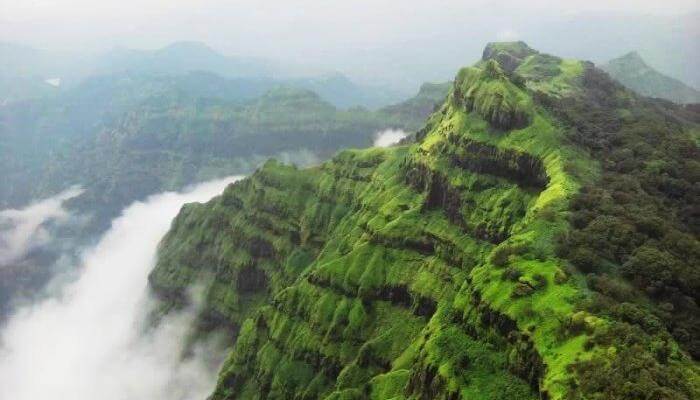 Mahabaleshwar is the perfect tourist destination in Maharashtra. It is one of the 10 most visited hill stations of the state and is adorned with evergreen forests, while boating scenic vistas of the surrounding valleys. The Venna Lake here is one of the top attractions along with many vantage points, views from which are memorable. Mahabaleshwar is an ideal family destination in Maharashtra with a plethora of relaxing resorts and good motorable roads.
During the Brithsh Rule, the tranquil and evergreen ambience of Mahabaleshwar used to be the summer capital of Bombay. Located on the Western Ghats and at a height of 1,353m above the sea level, it is also known as the 'Land of Strawberries'. Be it a family trip, outing with friends and colleagues or on for a honeymoon, Mahabaleshwar can be an ideal option in Maharashtra.
How to reach: Fly to the nearest airport of Pune from Mumbai at super low ticket prices starting at INR 3,985!
Major tourist attractions in Mahabaleshwar
Pratapgarh Fort
Venna Lake
Mahabaleshwar Temple
Tapola
Panchgani
Lingmala Waterfalls
Elephant's Head Point
Old Mahabaleshwar
Krishnabai Temple
3 Monkey Point
Arthur Point
Kate's Point
Wilson Point
Pratapgad
Top things to do in Mahabaleshwar
Boating in Venna Lake
Jungle Trekking at Tapola
Try Strawberries & Cream
Rock Climbing
Horse Riding
Shopping
How to reach Mahabaleshwar?
The nearest railway station to Mahabaleshwar is in Pune, which is some 117 km away. Cabs and buses are easily available from Pune to reach Mahabaleshwar.
Where to stay in Mahabaleshwar?
| | | |
| --- | --- | --- |
| Budget Hotel | Standard Hotel | Luxury Hotel |
| Rahi Plaza | Saket Plaza | Ramsukh Resorts and Spa |
| Hotel Poonam | Gautam | Evershine – A Keys Resort |
| Pratap Heritage | Sunny International | Royal Orchid |
Where to eat in Mahabaleshwar?
Farmhouse Bistro
The Grapevine
Bagicha Corner
Mad Smoke House
Chingari
Olive Garden
What to buy in Mahabaleshwar?
Strawberries
Black Raspberries
Wooden Items
Leather Footwears
Fruit syrups, juice concentrates, fruit crushes
Turmeric
Honey
Cane Baskets
Pappads
7. Gangtok, Sikkim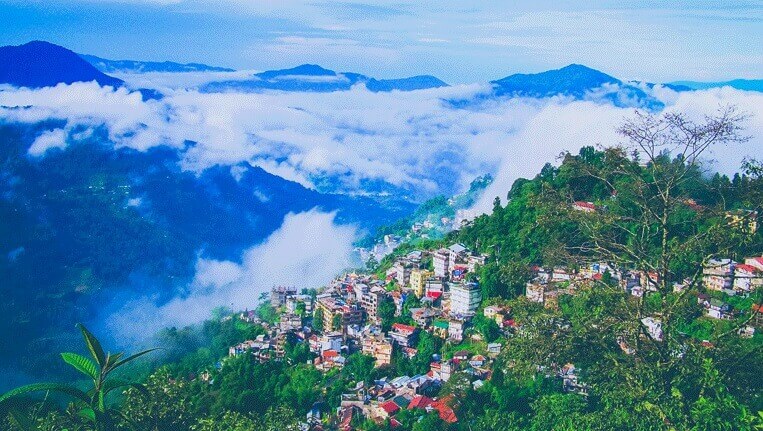 Sikkim's capital, Gangtok, sits along a cloudy mountain ridge about 5,500 feet above sea level. Sikkim only became part of India in 1975. Before that, it was a small independent Buddhist kingdom with its own monarchy after the end of British rule. Gangtok is a popular base for travel throughout the state, particularly with trekkers. It's a well-organized and clean city with strict littering, traffic and tobacco laws. Attractions include monasteries, viewpoints, a cable car, and a zoo that houses rare animals rescued from traders and poachers.
Gangtok, the vibrant capital of Sikkim, offers extravagant joys of the city in addition to the quaint aura of a hill station. The city has a ropeway which offers a bird's eye view of the city and surrounding locales. Walking is the best way for visitors to explore Gangtok and its charming people. The main market features various businesses selling local handicrafts which make perfect gifts. Several restaurants and bars around the city provide local delicacies as well as international cuisine. Days in Gangtok can be well spent at the Tashi View Point, Banjhakri Hill, Rumtek Monastery and the Tsongmo Lake.
Major tourist attractions in Gangtok
Tsomgo Lake
Saramsa Garden
Cholamu Lake
Hanuman Tok
Seven Sisters Waterfalls
Ganesh Tok View Point
Kanchendzonga National Park
Shingba Rhododendron Sanctuary
Top things to do in Gangtok
Trekking
Cable Car Ride
Mountain Biking
River Rafting at Teesta Bazar
Paragliding
Skiing at Mt Katao
How to reach Gangtok?
The nearest airport to Gangtok is in Pakyong, which is about 31 km away. Cabs are easily available for Gangtok from the airport. The nearest railway station to Gangtok is in New Jalpaiguri, which is some 118 km away. Cabs from here are also readily available.
Where to stay in Gangtok?
| | | |
| --- | --- | --- |
| Budget Hotel | Standard Hotel | Luxury Hotel |
| Hotel Tashi | Sai Residency | The Royal Plaza |
| Hotel Dew Pond | Silk Route | Orange Village Resort |
| Hotel Saikripa | Sidlon Residency | Denzong Residency |
Where to eat in Gangtok?
Shuffle Momos
The Coffee Shop Restaurant
Cafe Live & Loud
Roll House
Baker's Cafe
Khan Uncle's Biryani House
What to buy in Gangtok? (If you get time from your adventure expedition here)
Tibetan Carpets
Buddhist Figurines & Prayer Flags
Sikkim Tea
Semi-Precious Stones
Sikkimese Cups
Thangkas
Silver Jewellery
Wall Hangings
Black Cardamom
8. Bir Billing, Himachal Pradesh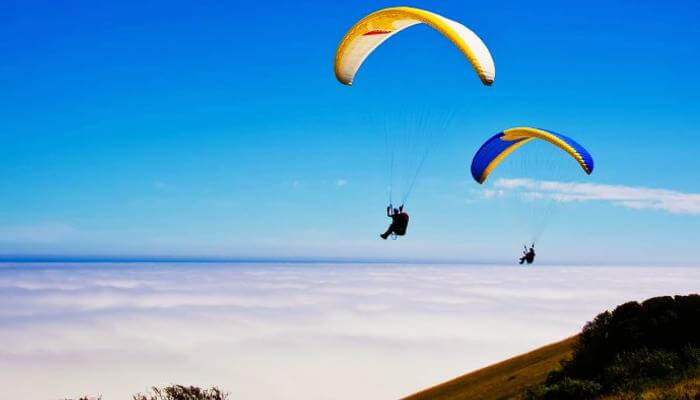 Situated amidst tea gardens and forests in the foothills of the Indian Himalayas Bir-Billing is a popular destination for adventure sports including paragliding. This place is slowly emerging as famous hill station in India.
Best Experiences: Soar high and enjoy the untouched scenic locations and verdant landscapes, go camping to enjoy the view of Kangra Valley and Beas Valley. Also, visit the beautiful Chokling Monastery and the Palpung Sherab Ling Monastery in the Tibetan town of Bir.
Best Time To Visit: April to June
Ideal Duration: Visit for a minimum of 4 days for a good trip.
How to reach: Take a flight directly to Dharamshala airport followed by a 45-minute taxi ride. Or take the train to Pathankot followed by a narrow gauge railway to Bir.
In the Joginder Nagar Valley, Bir is a tiny village that has become a popular paragliding destination in India. Enjoying a scenic setting, Bir technically is the landing site for paragliders, while the take-off site is situated 16 km away in Billing. Dubbed the paragliding capital of India, Bir Billing offers an unmatched adventure experience in Himachal Pradesh.
Major tourist attractions in Bir Billing
Palpung Sherabling Monastery
Tibetan Colony
Bir Tea Factory
Chokling Monastery
Dharmalaya Institute
Deer Park Institute
Nyinyang Monastery
Bangoru Waterfall
Tsering Jong Monastery
Rajgundha Valley
Barot Valley
Baijnath Mandir
Palampur
Top things to do in Bir Billing
Paragliding/Tandem Paragliding
Watch Sunset
Try the Tibetan Cuisine
Trek to Rajgundha
How to reach Bir Billing?
The nearest railway station to Bir Billing is in Pathankot, which is about 141 km away. Cabs are available from Pathankot to Bir Billing. Another way of reaching Bir Billing is by a volvo bus service from Delhi available from ISBT Kashmiri Gate.
Best time to see snowfall in Bir Billing: December to February
Where to stay in Bir Billing?
Zostel Bir
Tatva Bir Tents and Hotel
GoStops
Chokling Guest House
Where to eat in Bir Billing?
Garden Cafe and Restaurant
Nyingma Kitchen
Nyingma Cafe
99 Not Out Restaurant
Vairagi Cafe
Glider's Pizzeria
Bimla Dhaba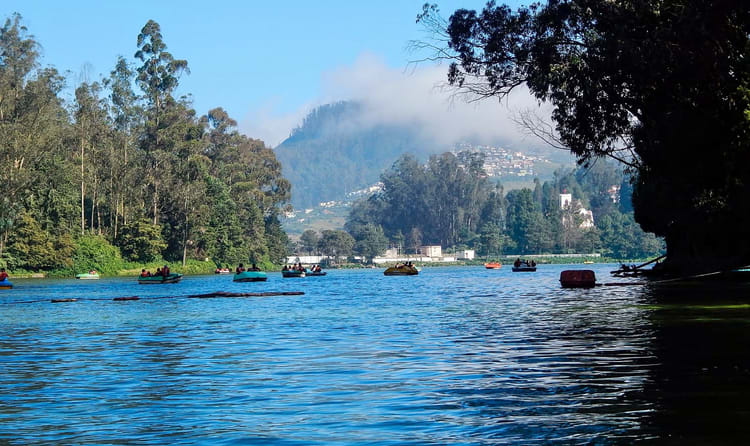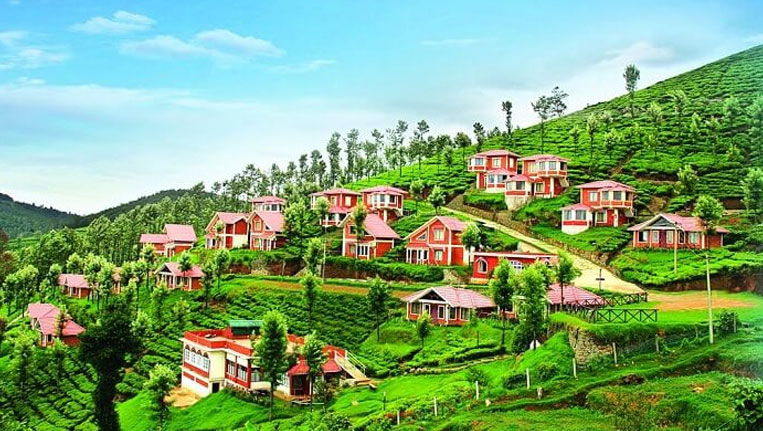 Ooty or Ootacamund is famous for the picturesque sites, its pristine lake, rolling hills. But the chief attractions of Ooty are the sprawling tea gardens. This beautiful tourist spot in Tamil Nadu has for long been the favourite of the honeymoon couples, and nothing has changed. Ooty remains an incredible Indian destination for honeymooners who would love to spend time relishing the picturesque beauty of the place.
The scenic beauty of Ooty makes it one of the most celebrated as well as highly visited hill stations in India. Nestled deep within the Nilgiri Hills, this quaint delight is a hub for the honeymooners and nature lovers. It is indeed entitled as one of the best hill stations in the Nilgiri Ranges.
Major tourist attractions in Ooty
Ooty Lake
Ooty Botanical Gardens
Ooty Rose Garden
Doddabetta Peak
St Stephen's Church
Thread Garden
Tiger Hill
Kamraj Sagar Lake
Thunder World
Ketti Valley View
Nilgiri Mountain Railway
Cairn Hill
Adam's Fountain
Top things to do in Ooty
Toy Train Ride
Hiking
Nature Walks
Boating in Ooty Lake
Tea Factory Tour
Chocolate Factory Tour
How to reach Ooty?
The nearest airport to Ooty is in Coimbatore, which is some 84 km away. Cabs are available for Ooty from Coimbatore. One can also board the famous Nilgiri Mountain Railway's Toy Train to reach Ooty from Coimbatore.
Where to stay in Ooty?
Sterling Ooty Fern Hill
Club Mahindra Derby Green
Sterling Ooty Elk Hill
Sherlock Hotel
Accord Highland Hotel Ooty
Sinclairs Retreat Ooty
Delightz Inn
Where to eat in Ooty?
Ponmari Multicuisine Restaurant
Earl's Secret
Hotel Pankaj Bhojanalaya
Hyderabad Biryani House
Adayar Ananda Bhavan
Nahar Sidewalk Cafe
Ascot Multi Cuisine Restaurant at Ooty
What to buy in Ooty?
Tea
Chocolate
Honey
Aromatic Oils
Antiques, Jewellery, and Handicrafts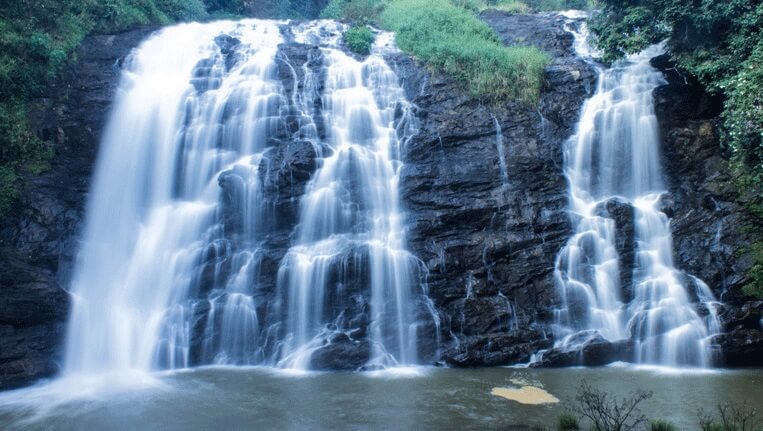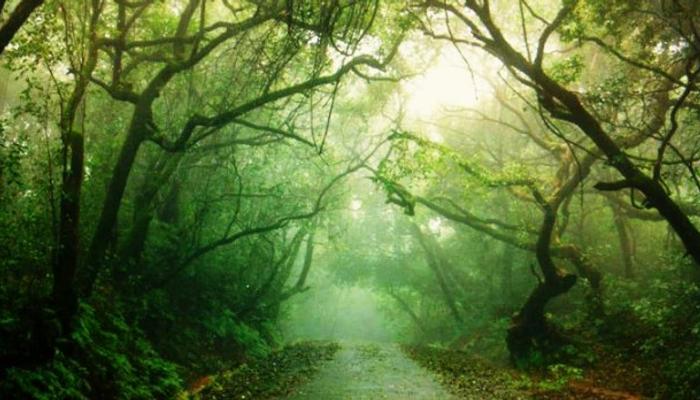 The coffee aroma-infused air of Coorg makes it all the more compelling to choose Coorg as a honeymoon destination in India. The lush green landscape and the tranquil settings of Coorg offer the perfect venue to newlyweds to spend time together. Coorg also has salubrious weather and some cozy tailor-made hotels for the honeymooners.
Coorg is a district in the Karnataka state which is known for an array of tourist attractions and quaint villages. There are mountain ranges with a spectacular view.
Best Experiences: For a nature lover, nothing is as blissful as the experience of exploring The Coorg District. The beautiful scenery, warm hospitality of people can allure you towards the hill station. The other attractions include Abbey falls, Nagarahole (Wild Life Sanctuary), Mountain Ranges, Churches, Forts.
Best Time To Visit: December to February
Ideal Duration: Coorg is an idyllic place for a quick weekend getaway.
How to reach: The nearest railway station is at Mysore which is about 100 kms away from Coorg. Buses are frequently available to take off to Coorg on a 4-5 hours comfortable journey.
Major tourist attractions in Coorg
Coffee Plantations
Abbey Falls
Irupu Falls
Trekking
Dubare Elephant Camp
Golden Temple/Namdroling Nyingmapa Tibetan Monastery
Raja's Seat
Omkareshwar Temple
Madikeri Fort
Gaddige Raja's Tomb
Dubare Elephant Camp
Top things to do in Coorg
Bathe the Elephants at Dubare Elephant Camp
Trekking
Food Tour
Coffee Plantation Tour
Camping
Fishing
River Rafting
Heritage Tour
Quad Biking
How to reach Coorg?
The nearest airport to Coorg is in Mangalore, which is 137 km away. The nearest railway station to Coorg is in situated in Mysore at a distance of 117 km. Cabs and buses are available from both of these destinations for Coorg. Bus service is also available between Bengaluru and Coorg.
Where to stay in Coorg?
Taj Madikeri Resort & Spa
Evolve Back
The Serai Kabini
The Tamara Coorg
Kadkani River Resort
Coorg Cliffs Resorts
Amanvana Spa Resort
The Windflower Resort and Spa
Heritage Resort Coorg
Where to eat in Coorg? (Restaurants are in nearby Madikeri)
Bigcup cafe
Beans N Brews Cafe
Coorg Cuisine
Raintree
The Fort Mercara – Restaurant
What to buy in Coorg?
Coffee
Organic Spices
Dry Fruits
Honey
Homemade Wine
Handmade Chocolate
Silk Saree