Apple Park is the corporate headquarters of Apple Inc., located at One Apple Park Way in Cupertino, California, United States. It was opened to employees in April 2017, while construction was still underway, and has superseded the original headquarters at 1 Infinite Loop, which opened in 1993.
Its scale and circular groundscraper design, by Norman Foster,have earned the structure a media nickname "the spaceship". Located on a suburban site totaling 175 acres (71 hectares), it houses more than 12,000 employees in one central four-story circular building of approximately 2,800,000 square feet (260,000 square meters). Apple co-founder Steve Jobs wanted the campus to look less like an office park and more like a nature refuge. Eighty percent of the site consists of green space planted with drought-resistant trees and plants indigenous to the Cupertino area, and the center courtyard of the main building features an artificial pond.
Contacting Apple Headquarters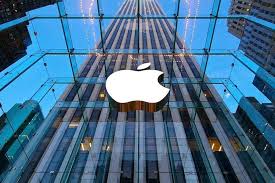 Apple is one of the leading electronics companies in the world. The company gained notoriety with the iPhone and eventually the iPad. Apple products all run on iTunes, an exclusive music, television and movie software from Apple. iTunes eventually moved into free podcasts and online education in recent years. Steve Jobs was the creator and leading officer at Apple. The company was founded in 1976 and the company headquarters is found in Cupertino, California.
Apple Headquarters Info
You can find the corporate office and Apple headquarters in Cupertino, California. All Apple devices come preprogrammed with the Cupertino location on some available applications, like weather.
Address: Apple headquarters is completely transparent when it comes to contact information and location of the Apple headquarters. You can address any letters to Apple headquarters to:
Apple Headquarters One Apple Park Way Cupertino, CA 95014
Phone Number: Call 1-408-996-1010 to reach someone at Apple headquarters. Hours of operation are not listed, but the company store is open from 10 a.m. to 5:30 p.m. Monday to Friday. We suspect the corporate office is also open during these times.
Email: There is no email contact for Apple corporate. There are, however, several feedback forms [+] that may help spread the word about your problem. You can also contact someone close to the corporate office by emailing the Media Help [+] department.
Website: There is no dedicated website for Apple headquarters, but the Investor Relations Page [+] offers detailed information and news on the company.
Apple Headquarters Executive Team
Apple headquarters is run by an executive team and board of directors. Some members, like Tim Cook the company's CEO, are on both the executive team and the Board of Directors.
Executives
Tim Cook – CEO
Katherine Adams – Senior Vice President and General Counsel
Eddy Cue – Senior Vice President Internet Software and Services
Craig Federighi – Senior Vice President Software Engineering
John Giannandrea – Senior Vice President Machine Learning and AI Strategy
Sabih Khan – Senior Vice President Operations
Luca Maestri – Senior Vice President and Chief Financial Officer
Deirdre O'Brien – Senior Vice President Retail + People
Dan Riccio – Senior Vice President Hardware Engineering
Philip W. Schiller – Senior Vice President Worldwide Marketing
Johny Srouji – Senior Vice President Hardware Technologies
Jeff Williams – Chief Operating Officer
Lisa Jackson – Vice President Environment, Policy and Social Initiatives
Isabel Ge Mahe – Vice President and Managing Director of Greater China
Tor Myhren – Vice President Marketing Communications
Adrian Perica – Vice President Corporate Development
Board of Directors
Arthur D. Levinson, Ph.D.
James A. Bell
Tim Cook
Albert Gore Jr.
Andrea Jung
Ronald D. Sugar, Ph.D.
Susan L. Wagner
Apple Headquarters Brands
Apple is the company brand, but exclusive products like the iPhone and iPad – and other iDevices are sold by Apple. iTunes, the music software, is another exclusive Apple brand.
Resource Links