Axis Bank Customer Care Number & Balance Enquiry through Missed Call & SMS
30th January 2020
AXIS BANK CUSTOMER CARE 24×7 NUMBER & TOLL FREE HELPLINE NUMBER
Here we are going to provide you with the contact details of the Axis Bank Customer Care & Toll Free helpline Number Missed Call Alert via your smartphone. lets check how you can do it right now.
PERSONAL PHONE BANKING CUSTOMER CARE TOLL FREE NUMBERS OF AXIS BANK
1-860-419-5555
1-860-500-5555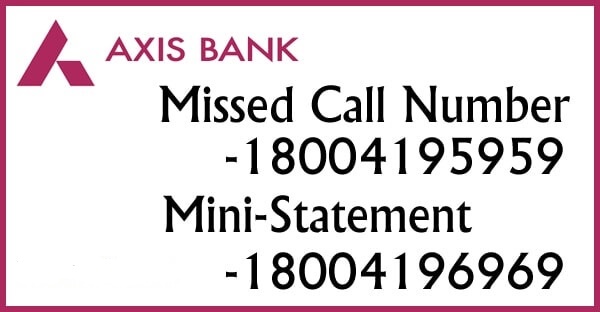 NRI BANKING CUSTOMER CARE TOLL FREE NUMBER
Dial landline number +91-22-67987700 for NRI customers of Axis Bank Customer Care 24×7 number & Toll Free helpline Number
This number can also be used for ATM/Debit card hot listing services
BUSINESS PHONE BANKING SERVICES OF AXIS BANK CUSTOMER CARE 24×7 NUMBER & TOLL FREE HELPLINE NUMBER
Dial the number +91 22 27648000 for business banking services
AXIS BANK AGRICULTURE/RURAL BANKING SERVICES TOLL FREE CONTACT NUMBER
Dial toll free 1-800-419-5577
AXIS BANK CREDIT CARD CUSTOMER CARE NUMBER
If you want to know the status of your credit card for the zixs bank you need to contact the below mentioned Axis Bank credit card customer care number.
1860-419-5555
1860-500-5555
HEAD OFFICE ADDRESS OF AXIS BANK
The Axis Bank Limited, Main Corporate Office, In Bombay Dyeing Mills Compound,
Panduranga Budhkar Marg, Warli, Mumbai – 400 025
Tel: (022) 2425 2525
MISSED CALL NUMBER TO GET AXIS BANK ACCOUNT BALANCE
To get your Axis bank account balance by the missed call on your mobile you need to make the missed call on the following numbers
To have your account balance dial 1800 419 5959
Getting your mini statement dial 1800 419 6969
For Hindi Language dial 1800 419 5858
Hindi Mini statement dial 1800 419 6868
To recharge your mobile dial 08049336262
To activate these services Type ACT and send SMS to 5676782
SMS BANKING SERVICES FOR AXIS BANK SAVINGS ACCOUNT CUSTOMERS
Axis bank is providing you with various SMS banking services from your smartphone/mobile device. To use these services you have to type desired keywords in SMS short format given below
Axis SMS Banking Number is 5676782
Mobile number for SMS banking is 9717000002
LIST OF SMS BANKING KEYWORDS TO GET VARIOUS DETAILS ON YOUR MOBILE
BAL [account-number] for balance enquiry
MINI [account-number] for mini statement
MBANK for the mobile banking app
ATM <Pincode> for ATM search in your area
GREEN <Email Id> for receiving an Email statement
ESTMT<last 5 digits of account number> <From Date> <To Date>
UPDATEM<valid Email ID> to update mail id
CHQBK <Last 6 digit of a/c No.> to get the cheque book
CHQST <6 digits of Cheque No.> <Last 6 digit of the savings Acc No.> to get cheque status
STOPCHQ<6 digits of Cheque No.> <Last 6 digit of the saving Account No.> to stop cheque
Aadhaar< Aadhaar no.>AC< last 6 digits of sacing/current Accounts no.> Aadhar linking
Lock < 9 digit Cust ID > To lock your internet banking
Axis Bank Account Balance Enquiry Missed Call Number
18001802223 (Toll-Free | English) | 18004195858 (Toll Fee | Hindi)
To know your Axis bank account balance, Give a missed call to 18004195959 toll free number which is given and you will receive the Account Balance through SMS. When you will call on the number the call will get automatically disconnect after a short ring and you will receive an SMS from the bank with remaining account balance detail.
Axis Bank Account Balance Enquiry through SMS Banking
BAL <Space> <A/C No> to 5676782
Also, you can enquiry Axis bank account balance through SMS banking service. Send given format BAL <Space> <A/C No> (e.g. BAL 015300XXXXX) to 5676782 from the registered mobile number in the bank.
For the Missed call banking service register your mobile number in the bank. Visit the nearest Axis bank branch at your location for any type of help. Also, you can avail the benefits of all Axis bank core banking services from Internet banking. Register for Internet banking service online if you have details available which are required to Signup account. If not then you can contact at your home branch for that.