BANK OF BARODA CUSTOMER CARE TOLL FREE HELPLINE NUMBERS
You can feel free to contact BOB Customer care . These are The Bank's center department toll free numbers.
1800-2233-44
1800-1024-455
1800-1027-788
1800-220-400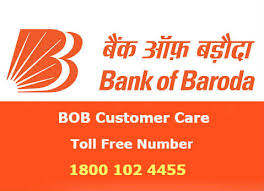 Bank of Baroda is an Indian MNC public sector banking and financial service provider company headquartered in Vadodara, Gujarat. It offers a wide range of banking products and financial services for corporate and retail customers. The bank has a network of 9583 branches and 10442 ATMs across India. With the help of all these services a Bank of Baroda account holder can easily check their account balance, mini statement and other detail just by a missed call on the toll free number. But all these services available to customers who have registered their Mobile number with the Bank.
This service is free of cost for BOB account holders and Safe & Secure way to get the latest BOB Account Balance.
BOB Bank Account Balance Enquiry Missed Call Number
Missed Call at – 8468001111
To know your BOB bank account balance, Give a missed call to 8468001111 from your registered mobile number which is given above and get the Account Balance through SMS. When you will call on the number the call will get automatically disconnect after a short ring and you will receive an SMS from the bank with remaining account balance detail.
BOB Bank Account Balance Enquiry through SMS Banking
BAL < space > Last 4 digit of account number to 8422009988
Also, you can enquiry BOB account balance through SMS banking service. Send given format BAL < space > Last 4 digit of account number to 8422009988 from the registered mobile number in the bank. If your mobile number is not registered for SMS or mobile banking service then you can visit any nearest BOB branch and get your Mobile Number registered in the account.