Pizza Hut is an American restaurant chain and international franchise which was founded in 1958 in Wichita, Kansas by Dan and Frank Carney. The company is known for its Italian American cuisine menu, including pizza and pasta, as well as side dishes and desserts. Pizza Hut has 18,703 restaurants worldwide as of December 31, 2019, making it the world's largest pizza chain in terms of locations. It is a subsidiary of Yum! Brands, Inc., one of the world's largest restaurant companies.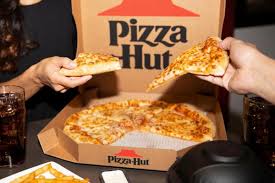 Pizza Hut Corporate Headquarters Address
Plano, Texas, United States
Yum! Brands or Pizza Hut headquarters is located in Louisville, Kentucky. Contact information includes a contact form, mailing address and contact phone number for Pizza Hut headquarters.
Address: You can write to the Yum! Brands corporate office to contact Pizza Hut headquarters. Address all letters to:
Yum! Brands attn: Pizza Hut Headquarters 1900 Colonel Sanders Ln, Louisville, KY 40213
Phone Number: The official phone number for Pizza Hut headquarters is 1-502-874-8300. If you are looking to contact the customer service department for Pizza Hut, call 1-800-948-8488 (U.S.) or 1-866-364-0846 (Canada).
Email: The contact form for Pizza Hut headquarters is nothing more than the customer service contact form. There is no email address or contact form for the corporate office at Yum! Brands.
Website: You can visit the website for Yum! Brands to find out more about the corporation behind Pizza Hut. There is no website for Pizza Hut headquarters as Yum! Brands is the parent company.
Pizza Hut Number : 1860 210 0000
Contacting Pizza Hut Headquarters
Pizza Hut is a pizza restaurant owned and operated by Yum! Brands. All contact information for the corporate headquarters is directed through the main company. You can find out about the corporate office by visiting the Yum! Brands website. The Pizza Hut website does not list corporate information, but you can find out about current offers, deals and view the complete menu on the official website.
Pizza Hut Headquarters Executive Team
There are no direct executives associated with Pizza Hut headquarters as the headquarters is found at Yum! Brands. There is a group of senior officers and a Board of Directors at Yum! Brands .
Senior Officers
David Gibbs – Chief Executive Officer Yum! Brands, Inc.
Chris Turner – Chief Financial Officer Yum! Brands, Inc.
Tracy Skeans – Chief Transformation and People Officer Yum! Brands, Inc.
Scott Catlett – General Counsel and Corporate Secretary Yum! Brands, Inc.
Tony Lowings – Chief Executive Officer KFC
Artie Starrs – Chief Executive Officer Pizza Hut
Vipul Chawla – President Pizza Hut International Pizza Hut
Mark King – Chief Executive Officer Taco Bell Corp.
Julie Felss Masino – President Taco Bell International Taco Bell
Russ Bendel – Chief Executive Officer and President The Habit Burger Grill
Clay Johnson – Chief Digital and Technology Officer Yum! Brands, Inc.
David Russell – Senior Vice President Finance and Corporate Controller Yum! Brands, Inc.
Jerilan Greene – Global Chief Communications and Public Affairs Officer Yum! Brands, Inc.
Keith Siegner – Vice President, Investor Relations, M&A and Treasurer Yum! Brands, Inc.
Board of Directors
David Gibbs
Paget Alves
Keith Barr
Michael J. Cavanagh
Chris Connor
Brian Cornell
Greg Creed
Tanya Domier
Mirian M. Graddick-Weir
Thomas C. Nelson
P. Justin Skala
Elane B. Stock
Robert D. Walter
Annie Young-Scrivner
Pizza Hut Headquarters Brands
Pizza Hut is the brand from Yum! Brands. Other brands from the company include Kentucky Fried Chicken and Taco Bell. In some cases more than one brand will occupy the same restaurant.